BLUE RIDGE SCHOOLS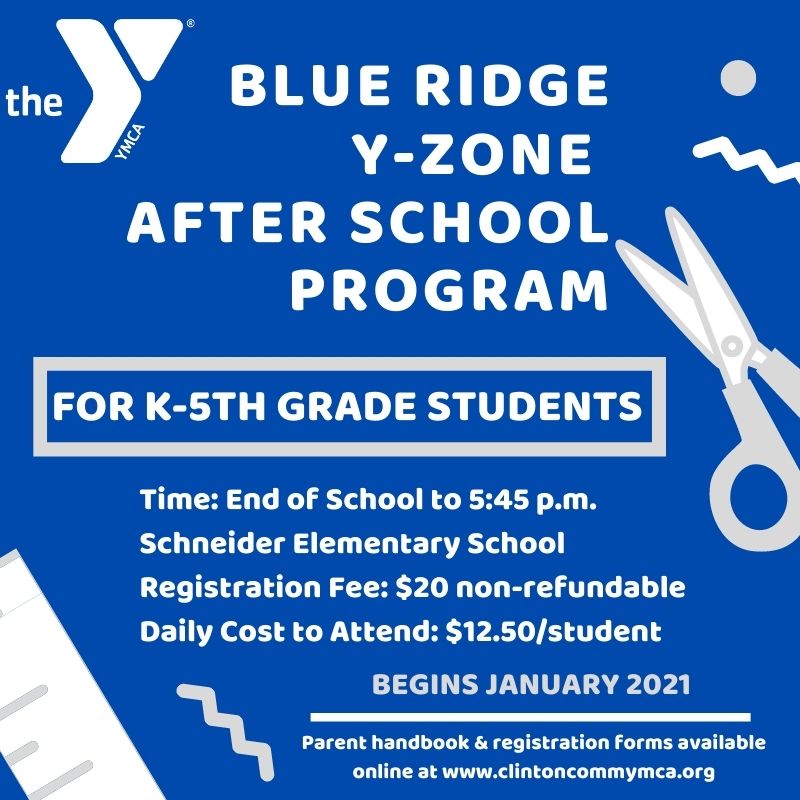 The Clinton Community YMCA is excited to be offering an After School Care program (Y-Zone) Tuesday - Friday for all students grades Kindergarten through 5th grade in the Blue Ridge District during the 2020-2021 school year!
Y-Zone will provide a safe, healthy environment for children after school to enrich their spirit, mind, and body. The program is held after school Tuesday - Friday at Schneider Elementary, Y-Zone hours are the conclusion of school until 5:45pm. You do not have to be a YMCA member to register and take part in the Y-Zone program! There is a $20 registration fee and registration runs the entire school year. Cost is $12.50 per day.
Registration forms and Informational Parent Handbook can be picked up at the YMCA Welcome Center or can be downloaded from the links below. There are new COVID-19 guidelines that the Y-Zone program must follow this year, so be sure to examine those changes found in the Parent Handbook. Any questions regarding the program, please contact the Clinton Community YMCA @ (217) 935-8307.