HOT TUB
Our Hot Tub is located on the pool deck, next to the viewing room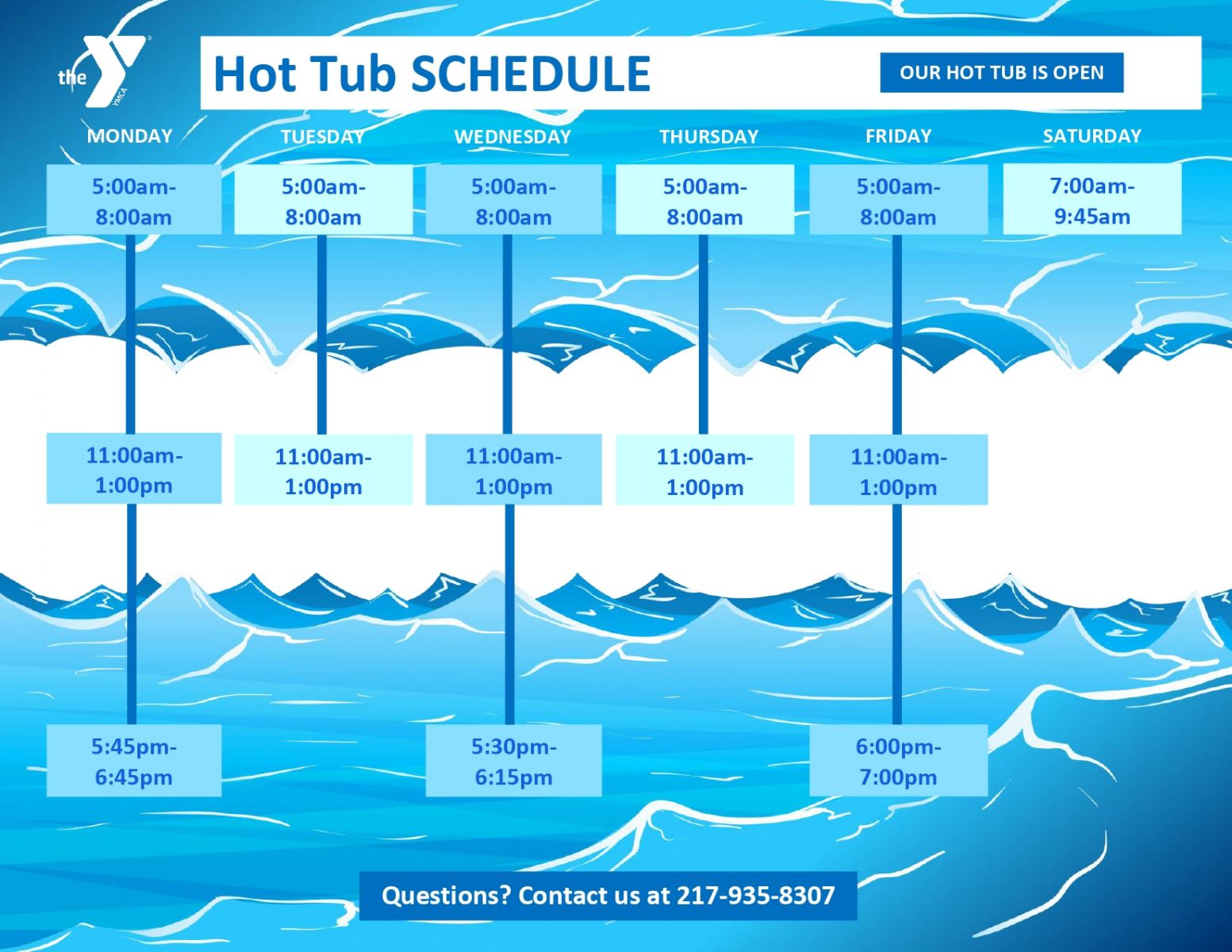 YMCA Hot Tub Policy
Whilrpools/Hot Tubs can be pleasant and relaxing experiences for YMCA members. However, severe injuries and fatal accidents can occur. Therefore, the YMCA of the USA Medical Advisory Committee makes the following recommendations regarding their safe use.
Whirlpool/Hot Tub: Temperature: 90-101 degrees fahrenheit.
Safety Precautions
Members should limit time in these facilities to a maximum of 15 minutes.

Members should be informed that due to the high temps, hot tubs can become an increased health risk.

Individuals at high risk (pregnant women, individuals taking prescription medicine, those with elevated blood pressure, circulatory deficiencies, individuals prone to dizziness or light-headed episodes, and those under the influence of alcohol/recreational drugs should be advised NOT to use the hot tub unless authorized by a physician. Any person showing evidence of any communicable skin disease, sore or inflamed eyes, nasal or ear discharges will be denied access to the aquatics center.

Do not enter the water if you are experiencing or recovering from diarrhea or have had any signs or symptoms of a gastrointestinal or communicable disease in the past 48 hours.

Members must be 16 years of age or older to use the hot tub.

Members should not use these facilities without supervision by a Lifeguard.
Consult a physician before use if you are pregnant, in poor health, or under a physician's care.
Limit hot tub use to NO MORE than 15 minutes.

The hot tub is a quiet relaxation zone.

Do not fully submerge.

No more than 5 people in the hot tub.
Long exposure may result in nausea, dizziness, fainting & increased

blood pressure

.

Carefully, exit the hot tub if you become dizzy, uncomfortable, or sleepy.