SPRINT TRIATHLON / DUATHLON 2024 Info
Come enjoy the beautiful scenery of Clinton Lake with the Clinton Community YMCA's Sprint Triathlon / Duathlon! Make it a weekend getaway and camp at Clinton Lake SRA (Mascoutin) camp ground. Plenty of great outdoor recreation to enjoy before and after the race event.
Course Description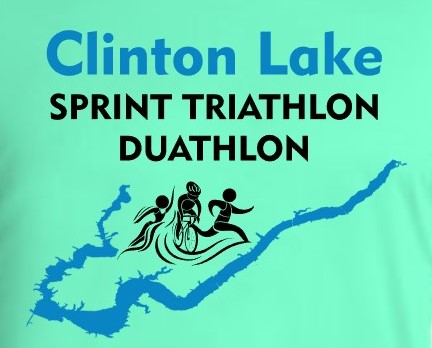 600 yard open water swim (Clinton Lake is a cooling lake for the Clinton Power Station so the water temps will be just right)

particpants will seed themselves for the start of the swim

12.7 mile bike - flat fast open road course.
5k run - flat course with a mix of gravel and pavement
* Duathlon athletes will start with the 5k run then complete the bike course and finish with a 1.5 mile run
Pre-Race packet pick up - June 21st, 2024
Location: Picnic area just west of Mascoutin Beach Entrance
7251 Ranger Road
DeWitt, IL US 61735
Time: 5:30pm to 7pm
Race packet: Packets will include bib number, ankle chip, swim cap, course map and beach ticket
Race Day - June 22nd
Location: Mascoutin Beach entrance
Parking:
The entire west parking lot will be used for the race event, so all participant and spectator parking will use the east lot. Overflow parking is a short distance away at Boon Docks.
6:15am - 7:15am - onsite race day packet pickup.
6:30am – Transition Opens – check in gear. Athletes may rack their bike. The beach has restrooms and changing area.

6:45am – Wetsuit announcement – legal if water is 78 degrees or below. Not legal if it is over, and wetsuit optional if 78-82 degrees but this group will not be eligible for any awards or USAT points. 82 degrees or above – NO wetsuits allowed.

7:45am - ALL athletes join at the Beach entrance for a pre-race talk and line up to start.
8:00am - Sprint Tri swim start begins and Duathlon 1st run!
RACE CUTOFFS:
Sprint distance athletes have 3 hours to complete the Sprint distance triathlon.
Swim must be completed under 30 minutes from athlete race start

Bike must be completed under 2 hours from athlete race start

Run must be completed under 3 hours from athlete race start
Race management reserves the right to remove an athlete from the course and DNF the athlete if course officials determine there is no possibility of an athlete finishing the given discipline (swim, bike, run) before the posted cut off times based on an athlete's location, time, and average speed up to that point.

ON COURSE NUTRITION & DRINKS:
Please carry your own nutrition. Water and electrolyte drink on the run for all athletes.

BIKE SUPPORT & MEDICAL STAFF:
There will be a bike mechanic in transition for last minute needs and a SAG vehicle on the course just in case you have an issue that you cannot fix during the race. Medical staff will be on the courses and in the SAG vehicles and will be at the Beach Entrance all race long.

FINISH LINE PARTY:
Food, drinks, and music at the finish line. Invite family and friends!

AWARDS: (Click here for race event sign up! )
Listen for announcements. We will do the awards as soon as the majority have finished.
Top 3 Overall Male & Female Awards for the following divisions: Sprint Triathlon & Sprint Duathlon
Top Overall Age Group Male & Female Awards for the following divisions: Sprint Triathlon
Top 3 Relay Teams for the following divisions: Sprint Relay

All participants will race based on their age as of 12/31/2024.
​The age group breakdown is standard 5-year age groups, 0-19, 20-24, 25-29, 30- 34, 35-39, 40-44, 45-49, 50-54, 55-59, 60-64, 65-69, 70-74, 75+

USAT INFORMATION:
USAT, or USA Triathlon, is the national governing body of the sport of Triathlon. Sanctioning an event through USAT means the race is provided insurance for its athletes, race coordinators, and volunteers. As a sanctioned triathlon, all athletes are required to either be an annual USAT member or purchase a one-day membership pass. If you are currently a USAT member, please make sure to bring your proof of membership when you pick up your packet. If you do not bring this proof, you will be
charged the one-day membership fee. If you are not an annual member, you will need to purchase a one-day membership (to insure you as a triathlete) before you are able to pick up your packet. One-day membership will be collected when you register online. A USAT Official will be at the event and will be enforcing all USAT rules. It is strongly suggested you visit the USAT website for the complete list of rules and review.
RACE SHIRT GUARANTEE:
Last day to register to guarantee a race shirt is June 1, 2024.

INCLEMENT WEATHER & REFUND POLICY:
There is NO inclement weather makeup date. In case of inclement weather,
management reserves the right to cancel/alter/modify the race/course for safety concerns. In any case there will be No Refunds of race entry fees. Each athlete must accept any such risk of their entry fee paid. There is no complementary race entry to a future race. All monies collected are used to develop and produce the event, including all race supplies, staffing, and administration. We pledge to make every effort to produce a fair, safe, and exciting event for all. Any decision we make to go forth with the race is based on the overall event safety. We have a strict NO REFUND policy.
PHOTO DISCLAIMER:
There may be a photographer on site capturing pictures of the event. Since this is a public event, we reserve the right to post photos on our social media or agency website. Photos may also be used in promotional materials.
ADDITIONAL RELAY INFORMATION:
Relay Sprint triathlon is a WONDERFUL way to experience a triathlon if you are not ready to run the whole thing, if you are not capable of competing in a specific leg, or if you just want an opportunity to share something unique with friends or family. A Sprint triathlon relay can be done with 2 or 3 people. The team can consist of all male participants, all female or mixed. Each person does 1 or 2 legs of the race. The timing chip will have a Velcro strap on it and is handed off from one athlete to the next in transition.