SWIM LESSONS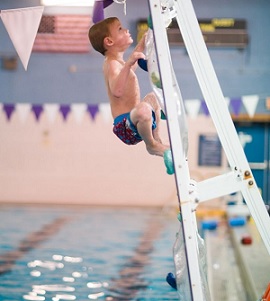 Teaching your child how to swim is one of the most important skills we teach at the Y. We offer lessons from ages 6 months thru adult.
Our swim lesson program focuses even more on keeping kids safe in and around water with an emphasis on true progression of swimming.
Repetition of classes helps students master skills by increasing confidence and strengthens the connection in the brain that helps children learn. Studies show the more a child repeats a task, the quicker the progress.
Registration begins the 3rd week of each month.
Prices: Y Member $40/per month Non Member $75/per month
Classes
INFANT & TODDLER
Parent/child - (6 mo. - 3 yr old) - A water discovery & exploration class. Infants and Toddlers learn to be comfortable in the water and develop swim readiness skills through fun and confidence building experiences, while parents learn about water safety, drowning prevention, and the importance of supervision. Children are accompanied in the pool by an adult (one child per adult). All children (not potty trained) are required to wear a swim diaper and a swim suit.
LEVELS 1, 2, 3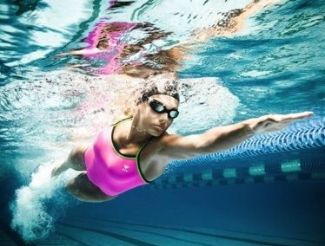 Swim Basics: Water Acclimation, Water Movement, Water Stamina
Level 1 - Increases comfort with underwater exploration and introduces basic self-rescue skills preformed with assistance.
Level 2 - Encourages forward movement in water and basic self-rescue skills preformed independently.
Level 3 - Develops intermediate self-rescue skills preformed at longer distances than in previous stages.
LEVELS 4, 5, 6
Swim Strokes: Stroke Introduction, Stroke Development, Stroke Mechanics
Level 4 - Introduces basic stroke technique. In front crawl and back crawl and reinforces water safety through treading water and elementary backstroke.
Level 5 - Introduces breaststroke and butterfly and reinforces water safety through treading water and sidestroke.
Level 6 - Refines stroke technique on all major competitive strokes and encourages swimming as part of a healthy lifestyle.
Private Swim Lessons
Basic skills and getting comfortable in the water. Don't let your age prevent you from learning a new skill!
See Bonnie for available times.
Four 30-minute classes
Prices: Y Member $60.00 Non Member $150.00
First Class
3 free months Parent/Child swim lessons
3 free month Parent/Child tumbling
3 Free months Youth YMCA Membership
Program is for 6-mo. infants up to three-year olds (program ends on child's 3rd birthday). First Class provides three free months of Parent/child swim lessons and tumbling. For more information on First Class call the Y.